Pathways to your dream degree
01 Sep 2023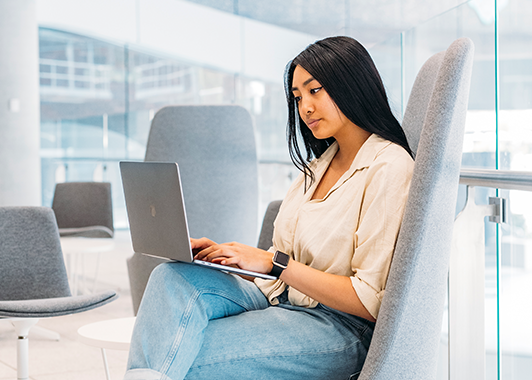 Applying for uni next year but worried that you won't meet the ATAR requirements for your dream degree? Most institutions offer pathway options for applicants who don't meet the standard entry criteria for their courses. Often, you'll be able to find a different avenue into the course you're aiming for.
If you don't get an offer into your chosen degree because you haven't met the required lowest selection rank, you could start an alternative undergraduate course with a lower entry rank. Once you've successfully completed the first year of that degree, and have results that will improve your selection rank, you can then apply again for the degree you really want. (See how to transfer to a different degree.)
However, there are some non-degree pathway courses that you can choose to list on your UAC application – these can be a great back-up plan in the event that you miss out on an offer to your dream degree.
If you successfully complete a non-degree course, such as a certificate, diploma or associate degree course, a university may guarantee you entry into a particular degree course. Otherwise, you can use your non-degree studies to apply and compete for admission to other degree courses. You may be awarded credit for some studies undertaken in your non-degree course, but always check with the institution you are applying to.
Pathway courses often provide a more supportive environment with smaller class sizes and more attention and focus from educators to help you build the skills and confidence you need to transition into your undergraduate degree.
Pathway programs: what are my options?
Foundation studies and preparation courses
These intensive bridging courses are designed for students who need more support to transition into university. They help you build university-level skills in areas such as digital literacy, academic communication and critical thinking, providing you with an understanding of university life and the confidence to start your degree. Many universities have great intensive programs available for school leavers, so be sure to do your research on this.
Some tertiary preparation courses are designed for applicants who haven't completed Year 12 or who aren't attempting Year 12 this year. Minimum age requirements usually apply and the length of these courses differs between institutions. Most universities will consider the tertiary preparation courses offered by other institutions. Check this with each university.
Undergraduate certificate
An undergraduate certificate is an introductory university qualification. It's usually made up of four subjects and takes six months to complete if you study full-time. Once you finish your certificate, you can use it to satisfy the entry criteria for a related associate degree or bachelor degree. Your certificate can also count as credit towards that degree.
Diploma
Diplomas will usually take one to two years to complete. They provide specialised skills and knowledge for a particular field, and often involve coursework of a more practical nature than an associate degree. Completion of a diploma can be used to gain credit for a bachelor degree. At some universities this can mean that you progress from the diploma to the second year of a bachelor degree.

Associate degree
Associate degrees are two-year university programs that generally have less competitive entry requirements than a bachelor degree (although they may still have prerequisites). They aim to give you the basic technical and academic knowledge and transferable skills you need to go on to employment or further study in your chosen field. While they are a qualification in their own right, you can also use them as a pathway to a specific bachelor degree.
Making the most of your UAC application preferences
You can select up to five course preferences in your UAC undergraduate application. Here are some tips and strategies to make the most of your selections – keeping your dream degree in focus while providing certainty with a back-up plan!
Put your dream course first: Even if there's a chance you won't get the ATAR you are hoping for, it is best to put your dream course at the top of your UAC preference list. Your marks may turn out better than you think, plus lowest selection ranks change from year to year. You also might be eligible to receive university selection rank adjustments, which are additional points that sit on top of your ATAR and increase your selection rank into particular courses at particular universities. This means you could get an offer to a course even though your ATAR is below the lowest selection rank.
Have a plan B: Research the full range of undergraduate courses in the field that you're hoping to study in. Look for courses with lower selection ranks and consider adding them to the middle of your list of preferences. This way, if you miss out on your dream course, you'll have a good chance of getting an offer to something similar. You may also be able to transfer into your dream degree later on.
Include a pathway course: Include one or two pathway courses at the bottom of your list of preferences, such as diploma, undergraduate certificate or intensive program. Make sure that these courses will provide a pathway to the degree you are aiming for.
Research, research, research: Check out UAC's course listings and institution profiles and head to university websites to explore your options. University open days are usually run in August to September, however, many institutions also run info days at the end of January, which are a great way to get your last-minute questions answered.
Don't give up: It's important to remember that many students don't go straight into their first preference in their first year of tertiary study. So don't give up if you don't get into your dream degree straight away – keep aiming for the course or the field that you're passionate about. There is always extra support, intensive programs and pathway courses to help you find a way to your university goal.
More information on pathway courses
Most of UAC's participating institutions offer non-degree options or preparation courses that can help you take the first step towards your dream degree. Read the institution profile pages for details.
Watch the UAC Digital webinar, Alternative Pathways to University, to hear a panel of admissions experts from various universities discuss pathway options, the benefits of completing a pathway course, and gaining credit towards a bachelor degree.