UNSW Sydney helps you discover your potential and make a positive difference in the world. Our community challenges you to turn your interests into world-changing ideas by helping you build the skills, experience, knowledge and connections to make it happen.
As one of the world's top 50 universities (QS World University Rankings 2022), our learning experience provides the best hands-on opportunities, work-integrated learning and extracurricular activities so you can uncover your strengths while working towards your degree. Located just 7 kilometres from Sydney's CBD and close to Coogee and Bondi Beach, UNSW is one of Australia's most cosmopolitan universities – with over 60,000 students from 135 countries.
UNSW's 3+ academic teaching calendar, which is made up of three 10-week teaching terms and an optional intensive summer term, offers you flexibility and time to pursue professional development opportunities in Australia and overseas.
These experiences set you up for career success, with more of our undergraduate students finding full-time employment and earning higher salaries than any other Group of Eight university (QILT Graduate Outcome Survey 2021).

Our six faculties combine world-leading researchers and educators to offer a wide range of study areas. These renowned minds mentor students to learn the latest innovations in practice and theory that push the boundaries of future applications. Students realise their ideas by putting this thinking into doing, with access to state-of-the-art facilities, business leaders and real-world situations that will prepare them for industry.
We're committed to taking actions today that create a more positive tomorrow. UNSW leads the way towards a more sustainable future, pioneering renewable power and materials in our research and actioning this on campus by switching to 100 per cent renewable electricity and plastic-free dining. Our community is pushing boundaries and solving today's biggest challenges; that's why we're home to more top-rating research than any other Australian university in the current Excellence in Research for Australia Report.


General information for UNSW Sydney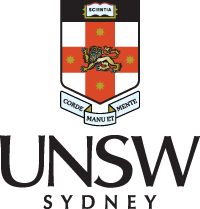 Other scholarships & schemes