Australian College of Physical Education
Australian College of Physical Education
Excellence in sport education since 1917
ACPE is Australia's leading specialist independent higher education provider with more than 105 years of excellence in sport, health, education, dance and football.

We outshine our counterparts based on the Australian Government-endorsed Quality Indicators of Learning and Teaching (QILT) Student Experience Survey (2021). This is important because it tells you what our current students have said about their experiences at ACPE.

Compared to other universities and education providers, in 2021, ACPE was rated in the top 15 for the overall quality of the student experience. We achieved a 94.4 per cent rating for teaching quality, 88.5 per cent for the quality of the overall student experience, and 92.9 per cent for student support, making ACPE the leading provider of sport, health and dance courses.
Located at Sydney Olympic Park, we are surrounded by sport organisations and industry partners presenting opportunities at our doorstep. Why go anywhere else?
Changing the game for you
Our degrees are co-designed and delivered by industry experts to ensure they are current and relevant. This is evident from the outstanding overall employment rate of 89.5 per cent and the 100 per cent employment rate for Education graduates. Our students are in demand.
ACPE is also home to the Liverpool FC International Academy Australia, where students become accredited coaches. We are proud to have Australia's first Bachelor of Football (Development, Management and Performance), together with an associate degree and a diploma that covers all football codes.
Gain entry into ACPE
Entry into ACPE is not dependent on your ATAR. We also have a range of scholarships available for undergraduate students and our courses are FEE-HELP approved.
For more on all you need to know about applying to ACPE

At ACPE you will never be just a number. It's a place where you can enjoy being you, where your achievements are celebrated, and everyone works to help you succeed. We know our approach works and our students have loved being a part of it since 1917. We look forward to welcoming you into our ACPE family!
CRICOS provider number: 01822J
TEQSA provider ID: PRV12066
General information for Australian College of Physical Education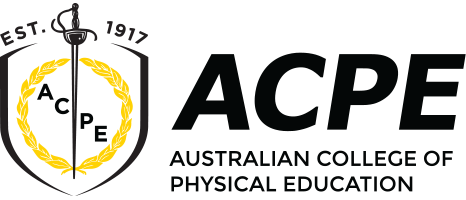 Other scholarships & schemes