At AIBI Higher Education (AIBI HE) you'll enjoy a different experience from studying at a big university.
Learn in a smaller, friendlier environment
Rather than being lost in the crowd, you'll be part of a smaller community with a friendlier environment. You'll have more direct access to qualified professors and lecturers. You'll also enjoy a strong focus on student support. We're committed to giving you an engaging, memorable and fulfilling student experience.
We support diversity and inclusion
Choosing AIBI HE also means that you'll be studying in a community that supports cultural diversity and welcomes students from a wide range of backgrounds. We believe higher education should be accessible and we consider students on more than their ATARs. Our campuses are conveniently located in the heart of the Sydney and Melbourne CBDs; two of Australia's most vibrant and energetic cities.
Grow your skills at an institution specialised in business and IT
If you're looking to build a career in cyber security, IT or business, AIBI HE may be a good fit for you. At AIBI HE, you'll enjoy high quality teaching. Our academic staff hold a wealth of industry experience, meaning you'll learn how to apply theory to the real world. AIBI HE degree programs are accredited by the Tertiary Education Quality and Standards Agency and our Bachelor of Cyber Security is recognised by the Australian Computer Society.
Invest in your future with AIBI HE. Whether you're looking to launch a career in cyber security or international business, we're here for your growth.
Choose to join one of AIBI HE's three yearly intakes commencing February, May or September.

How to apply
You can apply for admission directly to AIBI HE: start your online application.
To discuss your study options or receive advice on your application, email domestic@aibihe.edu.au or call 1300 23 77 41. One of our course advisers will then get in touch with you.
CRICOS provider number: 03844J
TEQSA provider ID: PRV14316
Applicants with recent Australian secondary education
17 years of age or older at the time of course commencement.
Minimum ATAR of 60.00 (or equivalent).
Applicants with work and life experience
A demonstrated ability to undertake study at the required level, due to relevant and appropriate work and life experience.
This can be demonstrated through one or more of the following:
broadly relevant work experience
formal, informal or non-formal study completed or partially completed
written submission
an interview with the Course Coordinator and/or the Admissions team.
Applicants with overseas qualifications
18 years of age or older at the time of course commencement.
Completion of Year 12 (or equivalent). Requirements differ per country.
English requirements:

IELTS: 6.0 overall
PTE: 52 overall
Application
Applications can be made directly to AIBI HE using our online application.

Before starting your application, please ensure you are ready to submit the following supporting documents:
academic transcript:

If you are a NSW school leaver, provide your NESA Record of Achievement and ATAR Advice Notice or available Year 12 reports
If you are a school leaver from another state or territory, provide your Year 12 results.
If you have already completed Year 12, provide your ATAR Advice Notice or transcripts of post-secondary study (including university, TAFE/RTO or STAT results)

one of the following proofs of citizenship:

Australian passport, birth certificate or citizenship certificate
New Zealand passport, birth certificate or citizenship certificate
Australian permanent residency document.
Note: All evidence and documentation must be authentic and in English. Authenticity can be demonstrated by the document having been certified or verified:
Certified means the document has been sighted by a Justice of the Peace and a copy of the document is noted as being certified.
Verified means the document has been sighted by the AIBI HE Student Recruitment Officer.
Once your application is received, it will be reviewed by AIBI HE's admissions team. If you meet the relevant entry criteria and have provided the required documents, you'll be provided with a letter of offer.
Enrolment
To enrol in an AIBI Higher Education course, you must receive and accept a letter of offer from the AIBI HE admissions team.
FEE-HELP is available to domestic students. If eligible, FEE-HELP can cover all or part of your tuition fees to a maximum amount (the FEE-HELP loan limit) over your lifetime. For more information about FEE-HELP, email domestic@aibihe.edu.au.
AIBI Scholarships
AIBI Higher Education offers two scholarships for domestic students. Successful scholarship applicants can enjoy a 30% reduction on their tuition fees over the duration of their degree. Each scholarship is valued at over $10,000.
The AIBI HE Opportunity and Inclusion Scholarship aims to make higher education more accessible to people from diverse backgrounds. It supports people who are experiencing or have overcome hardship, who are minorities and who have demonstrated resilience.
The AIBI HE Cyber Security Talent Scholarship may be right for you if you are passionate about cyber security and if the prospect of learning about cryptography, ethical hacking and network security excites you.
Our domestic scholarships are open to: Australian and New Zealand citizens as well as Australian permanent residents and Australian humanitarian visa holders. Students need to be 17 or older and need to meet the course entry requirements.
For more details contact us at domestic@aibihe.edu.au or apply here: https://form.jotform.com/233311026070843
Our Sydney and Melbourne campuses provide dynamic learning environments designed to help you achieve your academic and professional goals, all while having a great time.

Our campuses are equipped with state-of-the-art facilities and are staffed by experienced and knowledgeable educators who are committed to helping you succeed.
Our Sydney campus is located in the heart of Sydney's CBD, just a 5-minute walk from Central Station, meaning that getting to and from our campus couldn't be easier.
Our Melbourne campus is located on Elizabeth Street in the centre of the city, a few minutes' walk from Melbourne Central Station.
Not only are our locations convenient, but we are also surrounded by a diverse range of amazing restaurants and cafes, offering students a chance to sample some of the best food our capital cities have to offer.
When you choose to enrol at AIBI HE, you're choosing to study in a supportive environment. AIBI HE encourages an open and nurturing environment that empowers students to learn and further themselves.
Some of the student support and services you'll enjoy while studying at AIBI Higher Education include:
academic resources and workshops
individualised academic support to help you succeed in your studies
careers advisers who can support you in a range of areas, from improving your resume to preparing for interviews
access to academic mentors who can guide you in improving your study habits
exposure to internships and job opportunities
library support staff who can help you with finding references, using databases and referencing.
Your mental health is important to us. At AIBI HE, we're committed to:
creating an inclusive, diverse and supportive culture
delivering wellbeing initiatives
promoting mental wellbeing
raising awareness of mental health
reducing the social stigma surrounding mental health.
General information for AIBI Higher Education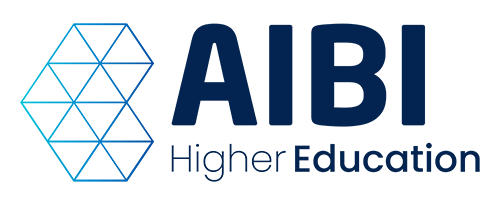 Location
Sydney
Suite 510 / 451 Pitt St, Haymarket, Sydney, NSW, 2000
Melbourne
Level 5, 440 Elizabeth Street, Melbourne, VIC 3000