Academy of Interactive Entertainment
Academy of Interactive Entertainment
The Academy of Interactive Entertainment (AIE) is Australia's most awarded 3D animation, game development, filmmaking and visual effects educator. Created as a non-profit organisation to grow the creative digital sector, AIE pioneered the development of specialist qualifications and continues to innovate through industry partnerships and dynamic teaching. AIE courses are practical, career-focused and delivered by industry-experienced teachers in a seriously fun and creatively demanding studio environment.
AIE offers specialist training in computer game development (art, design and programming), film, virtual production and visual effects, supporting the Australian digital creative industries, which continue to grow faster than any other entertainment or content sector. All AIE's certificate and advanced diploma programs are nationally accredited and recognised through the Australian Qualifications Framework.
AIE graduates can be found working around the world at major games, animation and visual effects studios: Animal Logic, ILM, Weta Digital, Epic Games, Mighty Kingdom, Ubisoft and Rockstar. Our graduates have been credited on blockbuster games including GTA V, Destiny and Gears of War 5 and their short films have featured in film festivals around the world. AIE graduates have worked on blockbuster films and TV shows, including Spiderman: No Way Home,
The Lego Movie and Loki as well as AIE's funded feature films Blue World Order, The Furies and Sissy.
The software, production process and knowledge involved in the development of games, film and visual effects production mirrors activity in technology-driven industries from engineering, architecture and urban planning to defence simulation and biotechnology. AIE graduates are just as likely to be hired by a games or film studio as they are a software development team working within Australia's biggest finance companies.
CRICOS provider number: 02406F (Sydney), 02406F (Canberra)
RTO code: 88021
Entry requirements for Advance Diploma courses include:
Interview - In the interview we are assessing your suitability for the course including any specific requirements you may have.
Portfolio - we are looking for evidence of creativity which is demonstrated through a collection of works in a medium of your choosing.
Copy of your Year 12 Certificate OR by achieving an Exit Level 3 score within the Australian Core Skills Framework assessments in reading and numeracy.
Interview and portfolio requirements
Interview process
Interviews for full-time courses are relaxed and informal. This is your chance to have a chat with an AIE teacher and ask any specific questions you may have about the course.
This is a great opportunity to demonstrate your interest, enthusiasm and potential to complete the course to a high standard. We're looking to assess your suitability for the course including any specific requirements you may have.
Common questions you might be asked in the interview relate to teamwork, educational history, what you want to gain from the course and your long-term career aspirations. During the interview you'll also need to show examples of your work from your portfolio. Your interviewing teacher will assess which level of the course would best suit you and let you know if you need to submit further materials.
Portfolio requirements for an art applicant
The main thing we look for in an art applicant's portfolio is evidence of creative ability. Your portfolio demonstrates your ability to imagine and realise a creative piece of work. It tells us about the medium you're most familiar with, whether it is a traditional medium such as pens, pencil or charcoal or a particular type of software, such as Photoshop.
Seeing your portfolio proves to us that you can take something down the creative process from concept to presentation. We are open to anything creative in a portfolio. In the past we've seen sketches, paintings, video clips, animation, multimedia, sculpture, photography, life drawing and graphic design. We've also seen some non-traditional portfolios such as cars with awesome airbrushed murals and photos of interior design work in various mansions. We recommend that students pick at least 3 - 5 examples of their work to show. You can bring in a physical portfolio or, digitally, on CD, DVD, USB flash drive or laptop.
Requirements for a programming applicant
Applicants for our game programming courses also need to bring along a portfolio of work. These are usually in the form of digital files on CD, DVD, USB flash drive or laptop. We are looking for an aptitude for programming shown through programming or scripting in any language. We would like to see actual code samples as well as the compiled working application. In previous years students have brought in Visual Basic projects, Flash/ActionScript files and custom databases right up to iPhone and Java apps, multi-media projects and game mods.
In terms of formal prerequisites, good results in Software Development, Information Technology, Maths and Physics are useful indicators but not always essential. If you have an aptitude for programming and logic and a passion for games, we want to talk to you.
Requirements for a game design applicant
A design portfolio should include any design work you have done. It doesn't matter if you've designed a game, a chair, a car, an electric toothpaste opener; it is all relevant! Even better if you can show us the process used to reach that design goal. The act of solo design is one thing but communicating your ideas to others is another. Showing us any written work you have done in the past be it instructional, informative or entertaining would be advantageous.
VET student loans
VET Student Loans are an Australian Government loan scheme for the Vocational Education and Training sector that is part of the Higher Education Loan Program (HELP).
Students studying Diplomas, Advanced Diplomas or the Graduate Diploma may be eligible to apply for a VET Student Loan to defer part of the cost of their tuition fees. Courses are subject to maximum loan caps and students will be required to pay any fee over and above that cap. Read more about the options students have to pay their fees on our payment options page.
A VET Student Loan is repaid through the tax system once a person reaches the minimum income threshold level of repayment. The VET Student Loan remains a personal debt obligation until it is repaid to the Commonwealth and may affect (by reducing) a person's take-home (after tax) wage or salary until the debt is repaid. It may also affect the borrowing capacity of the person until the debt is repaid to the Commonwealth.
The Australian Government VET Student Loan website provides detailed information about assistance for financing tertiary study.
Student eligibility
Eligibility information for students wanting to apply for VET Student Loans can be found in the VET Student Loans information booklet.
Students must read this booklet before applying for VET Student Loans.
VET Student Loans are available for diploma and above level qualifications.
Students are able to apply for a VET student loan for any approved course, offered by a VET Student Loans approved provider.
Students must meet citizenship, residency and student entry requirements to be eligible for a VET Student Loan. Read more information about this in Student eligibility for VET Student Loans.
Local Area
The school is an easy walk from colourful cafes, shops and restaurants in Glebe or Pyrmont, Sydney's iconic Fish Markets, Darling Harbour and Broadway Shopping Centre. Students are only a short distance away from the Sydney CBD and the campus is surrounded by parks with easy access to public transport.

Accommodation
Students who are moving to Sydney to study with AIE will no doubt be looking for a place to call home for the next few years. There are a range of options available to students and AIE is happy to assist and provide guidance to students who may be unfamiliar with the area.
As we are located amongst a number of other educational institutions, there is a lot of student accommodation options in the immediate area. Students may choose to source their own student accommodation through sites like Gumtree.com.au or flatmatefinders.com.au, or, choose a structured student accommodation environment like iglu.com.au or unilodge.com.au (we don't endorse any particular product and acknowledge that there are probably some very valid options we have no listed here). We are also happy to put notices up on our internal notice boards as our student's often have room to rent in their places or might also be looking for accommodation at the same time.
AIE's Student Liaison Officers are on hand to provide guidance in the area if required.
General information for Academy of Interactive Entertainment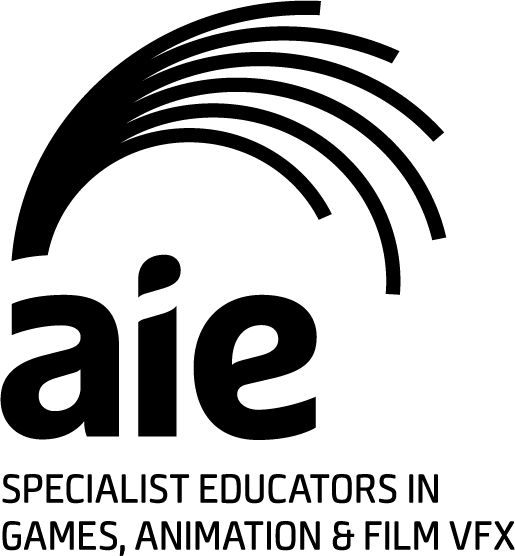 Location
Sydney campus
Level 1, 33 Mountain Street
Ultimo NSW 2007
Canberra and online campus
Block E, Canberra Technology Park
49 Phillip Avenue
Watson ACT 2602
View all campus locations