UAC News - March 2019
11 Mar 2019
Applications are opening early
Applications for study in 2020 will open on Wednesday 3 April. Students will be able to apply for undergraduate and international as well as Schools Recommendation Schemes, Educational Access Schemes and Equity Scholarships.
Although not all courses for 2020 will be available, we encourage students to choose one course to complete their application and come back later to review and change their preferences. All semester 1, 2020 courses will be available from August as per usual.

Early bird and SRS applications will close at the end of September and offer rounds and other deadlines will remain the same as previous years. Dates will be available on UAC's website from 3 April.
UAC PINs
Students will receive their PINs on Wednesday 3 April and will be able to apply straight away. PIN emails will be sent to the email address NESA has on file.
Remind your students to update their email address with NESA, preferably to a personal email address (rather than a school email address) so they can be contacted when ATARs and offers come out in December and January.
Check the course start date
Advise your Year 12s to check the course start date before adding any courses to their preferences to avoid applying for a semester 2, 2019 course. If their preferred course isn't listed for first semester 2020, tell them to choose one course to complete their application and come back later to review and change their preferences.
UNI OPEN DAYS
For an up-close experience of university life, encourage your students to attend a uni open day. Dates for 2019 are available now.
UAC Guide
The UAC Guide will be arriving at schools extra early this year to accommodate the earlier opening date. Look out for your school's copies from the end of March.
This year's Guide has been streamlined. It will still have all the essential information about applying and a list of courses to be offered in 2020. Comprehensive course descriptions will be on UAC's website. These will be added to as universities finalise the details. Encourage your students to check it regularly.
The Guide also includes information for international students this year – rather than in a separate booklet – all Year 12 students need to know about applying for uni in one handy publication.
Course Compass
If your students need help deciding which uni course to apply for, direct them to Course Compass. They can answer a few quick questions about their HSC subjects and Course Compass will display the fields of study offered to recent applicants just like them. They can also drill down to institutions offering courses that might suit them.
Applying through UAC vs direct applications
As you know, the UAC application allows students to apply for courses across 27 institutions. Some of those institutions also offer direct applications just for their own courses. Based on feedback we've received from schools, we know that students are unsure about whether they should apply direct to the institution or through UAC, and to increase their chances many are doing both. It's important for students considering a direct application to remember the following:
not all institutions accept direct applications from Year 12 students
having a UAC application also allows you to apply for EAS, SRS and Equity Scholarships

having a UAC application as well as a direct application will give you more chance of securing an offer, so long as you don't enter the same preferences in both applications.
ATAR and IB in the media
You may have seen recent media coverage of two issues affecting UAC – calls for the ATAR to be based on 6 or 8 units and criticism of the schedule used to convert International Baccalaureate scores into UAC ranks.
As far as the ATAR is concerned, there is no immediate plan to change the 10-unit requirement; it exists to ensure the breadth of study needed to calculate an overall measure of Year 12 academic achievement, and best prepare students for higher education.
IB schools are aware that UAC has been working with the IB Organisation for some time to obtain finer-grained results that will inform the development of a new schedule. UAC will provide detailed information to IB schools, students and parents in the coming months about the schedule and how and when it will be implemented. In the meantime, students already in Years 11 and 12 can be reassured that this change will not affect them, and they will continue under present arrangements.
School engagement
UAC Days
UAC Days are professional development days for careers advisers, year advisers and other senior secondary staff who advise students about subject selection, the ATAR and applying to uni.
The morning session explains the calculation of the ATAR and strengthens understanding of the scaling tables by involving participants in exercises and discussion. The afternoon session provides information on all things UAC including Schools Recommendation Schemes (SRS), Educational Access Schemes (EAS), and the UAC application process. There will also be time to ask specific questions.
Dates and venues will be published on UAC's website as they are confirmed.
School presentations
UAC presents in-school information sessions on the ATAR and applying to uni with plenty of time for questions from students, parents and staff. These sessions are in high demand, so if you'd like UAC to come to your school, check our guidelines for school presentations and contact us for further information.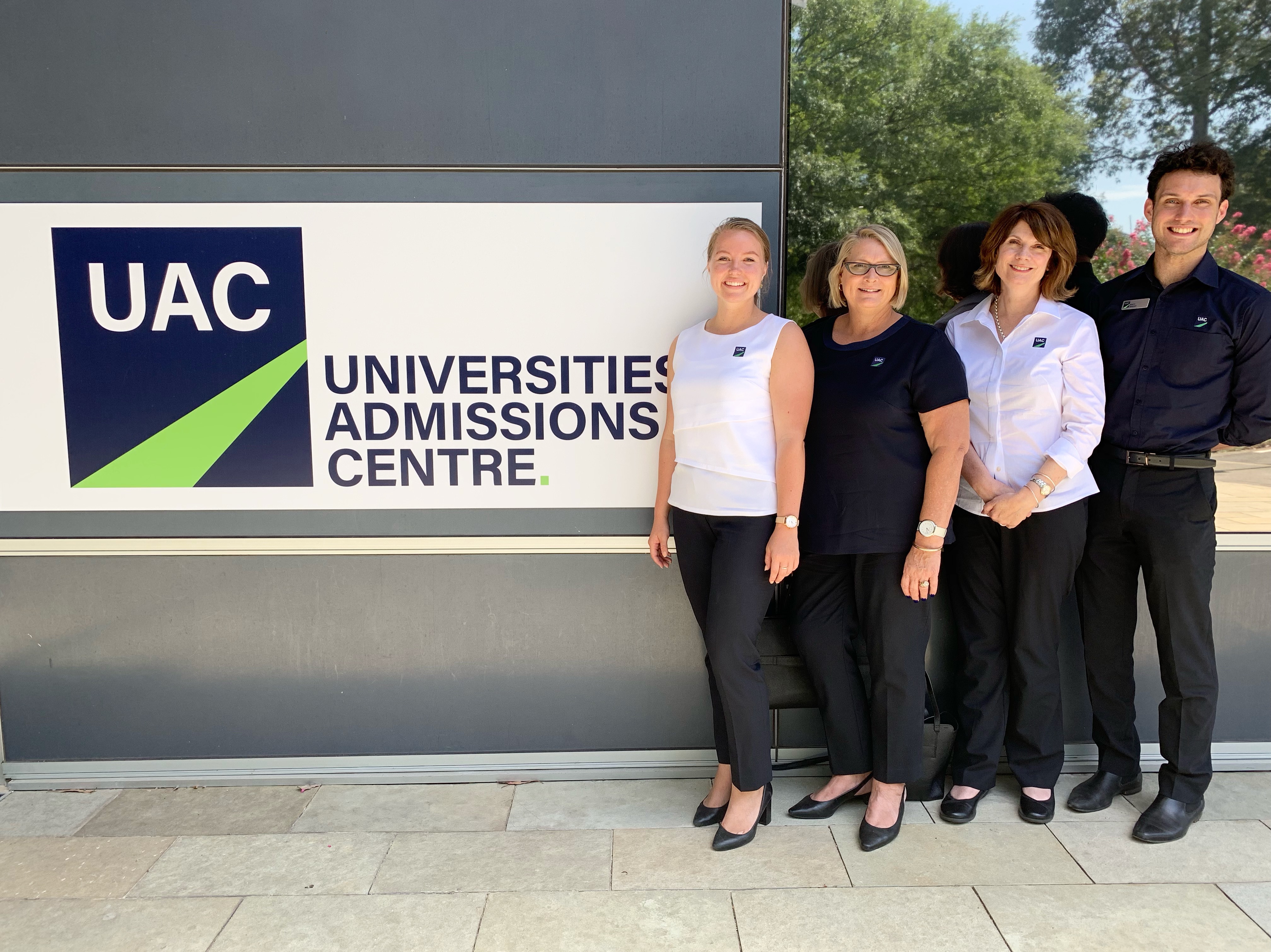 Events
UAC attended more than 200 career and uni events in 2018 across NSW and the ACT and interstate – and they'll be doing it again in 2019.
Our Community Engagement team has grown this year and there are some new faces, so come up and say hello to Susanna, Trudy, Wendy or Matthew (pictured left) when you see them around.
For details on where the Community Engagement team will be, visit UAC's website. Check back regularly for new dates and events.
Access and scholarship programs
This year UAC's new Access and Scholarships Programs brochure has a summary of information for students and teachers on applying for access and scholarship programs through UAC. You can download the brochure on UAC's website. Detailed information will only be on the website this year.
Changes to Educational Access Schemes
New disadvantage category - OOHC
There is a new disadvantage status for EAS. If students are living (or have previously lived) in out-of-home care and are applying for university through UAC, students can have these circumstances considered in support of their application. Download the fact sheet for more information.
Changes to EAS schools lists
UAC will be using the Socio-Economic Index for Areas (SEIFA) (developed by the Australian Bureau of Statistics) to help low-SES students get into uni in 2020. It is expected that this initiative will significantly increase the number and percentage of low-SES applicants who are eligible for equity adjustments, which could make the difference to getting into uni.
Special entry requirements
Medicine and medical sciences
Special entry requirements for medicine and medical science courses at the University of Newcastle, University of New England, the University of Sydney, UNSW Sydney, Charles Sturt University and Western Sydney University for 2020 are now available. Download the fact sheet for more information.
University Clinical Aptitude Test (UCAT)
UCAT has replaced UMAT for entry into most medical and dental courses and some medical science courses in 2020. Students need to check the course description to see if the course they're interested in requires them to sit UCAT.
Registrations for UCAT are open now and closes at midnight on 17 May 2019.
Law
UNSW Law Admission Test (LAT)
LAT is a professionally designed and marked selection test developed to assess the types of aptitudes and skills that are critical to success in the Law program at UNSW Sydney. The LAT is used for selection into undergraduate level programs in Law.
For students interested in studying law at UNSW in 2020, LAT 2019 will be held on Thursday 3 October 2019. Visit the LAT website for further information.
Help for Year 10 students
UAC's Year 10 booklet, Steps to Uni for Year 10 students, will be available in May again this year. A free copy will be provided to every Year 10 student in schools in NSW and the ACT.
An exciting new online companion tool will also be launched at this time. Based on the worksheets in the booklet, students will be able to input their interests, skills and career aspirations to discover the areas of study that suit them best. They will receive HSC course suggestions and their ATAR eligibility and then they can share their findings with their careers adviser. More information will be provided in May.
School offer lists
A reminder that details of all 2019 semester 1 uni offers made to students at your school are available in the secure Schools area of our website.
Institution news
Read about events, scholarships and course updates from UAC's participating institutions.
Australian National University
Charles Sturt University
International College of Management, Sydney (ICMS)
SAE Creative Media Institute
Top Education Institute
University of Wollongong
UNSW Sydney
Western Sydney