Directions - September 2018
06 Sep 2018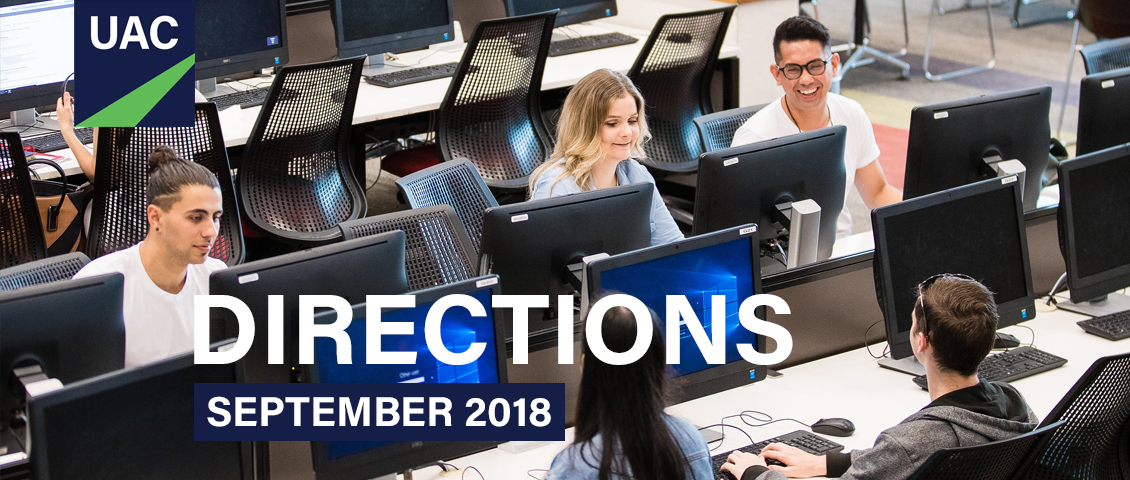 Postgrad applicants, it's your turn!
There are more than 700 postgraduate courses to explore in our course search. You can list up to six preferences in your application – from graduate certificates and diplomas to masters degrees.
The early bird processing charge for postgraduate applications is $70. We encourage you to apply before midnight on Wednesday 31 October to avoid an increase in the processing charge.
Not sure if postgrad study is for you?
The video below shows how postgraduate study can help you advance your career, refresh your skills or provide the opportunity to pursue a long-held passion.
Get your qualifications assessed
Our Qualifications Assessment Service can provide you with a qualifications assessment statement. You can use this as a guide as to whether your qualifications are adequate to be considered for admission to your chosen postgraduate course.
Qualification assessments usually take one to two weeks and the fee is $128.
Be an undergrad early bird
If you've applied for undergraduate study we recommend you complete and pay for your application before midnight on Friday 28 September, when the processing charge increases. Once you've applied, you can change your preferences as many times as you like for free.
If you're in Year 12 make sure you include all your chosen courses in your application by midnight on Sunday 16 December. The first round of offers to Year 12 students based on their Year 12 results will be made in December Round 2 (Thursday 20 December 2018).
Some courses have early closing dates: check the closing dates in the course search to make sure you apply for your preferred courses in plenty of time.
If you're considering undergraduate study, find out more about:
Attention all veterans!
We've added an additional question about veteran status into our application process. This will allow universities to offer all current and former ADF personnel and Reserves special consideration and individual assistance, making their transition to tertiary study as smooth sailing as possible. Read more about how UAC is helping veterans get into uni.
Has drought affected your studies?
You may be eligible for Educational Access Schemes (EAS) on the basis of excessive family responsibilities, severe family disruption and financial hardship.
Students who attend schools in regional and remote areas are automatically eligible for EAS consideration and will receive notification from UAC after they apply for study. Find out how EAS can help you get into uni.
National platform launching soon
You may have heard that we're helping the Commonwealth Department of Education and Training to establish a national tertiary course information platform. The first phase of the platform is due to launch soon. It will contain general institution information and course details for every undergraduate higher education course across Australia.
Course Compass understands you
We're currently developing an exciting course recommendation tool for Year 12 students. Course Compass will use a student's unique mix of HSC subjects to provide recommended areas of study at university. Course Compass will be available on our website in October, well in advance of change of preference deadlines for the major Year 12 offer rounds.
Tell us what your think
We're conducting a series of usability surveys aimed at gathering information about our print and digital resources, and we want your feedback. If you're familiar with UAC's resources and would like to take part, click on the relevant category below to be redirected to the survey. The surveys will stay open until Friday 5 October 2018 and should take less than 10 minutes to complete.
In the media
For all the latest media releases from UAC, visit our Media Centre.