Directions - December 2018
06 Dec 2018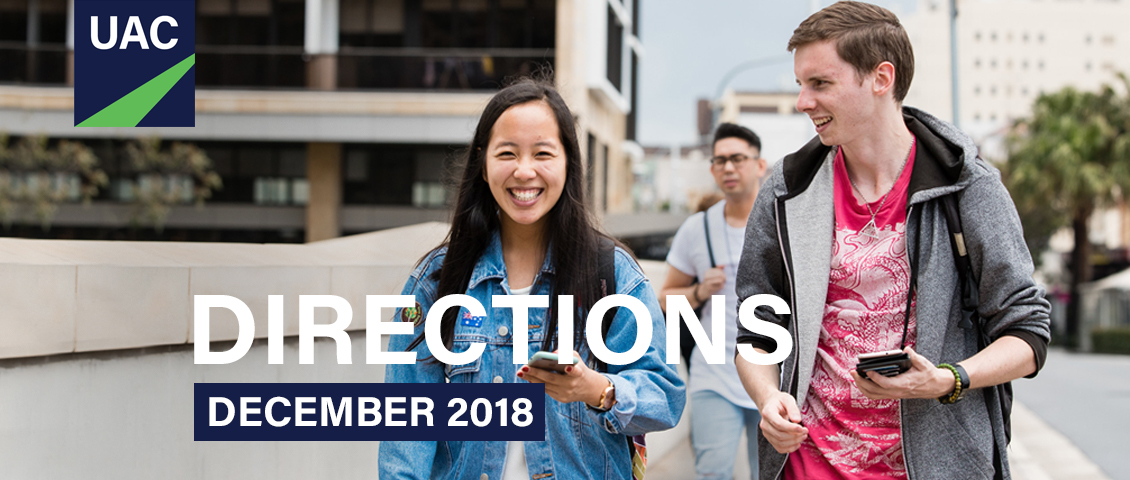 Here's what you need to know to access your ATAR.
When?
View your ATAR online from 9am on Friday 14 December.
Download your ATAR Advice Notice from 10am on Friday 14 December.
Where?
Log in to UAC's website or the My UAC app.
You'll need your Year 12 student number (or UAC application number) and your UAC PIN.

What?
Your ATAR is a number between 0.00 and 99.95 that universities use to help them select students for their courses.
Admission to most tertiary courses is based on your selection rank. Your selection rank is your ATAR plus any applicable adjustments.
Selection rank adjustments are applied differently from institution to institution and from course to course within the same institution. Find out about the different types of adjustment factors available to Year 12 students.
Download your ATAR notice
Don't forget to download and print your ATAR Advice Notice. You can log in and access it from 10am on Friday 14 December until 28 February 2019. After that there's a charge for a digital or printed copy.
ATAR live on facebook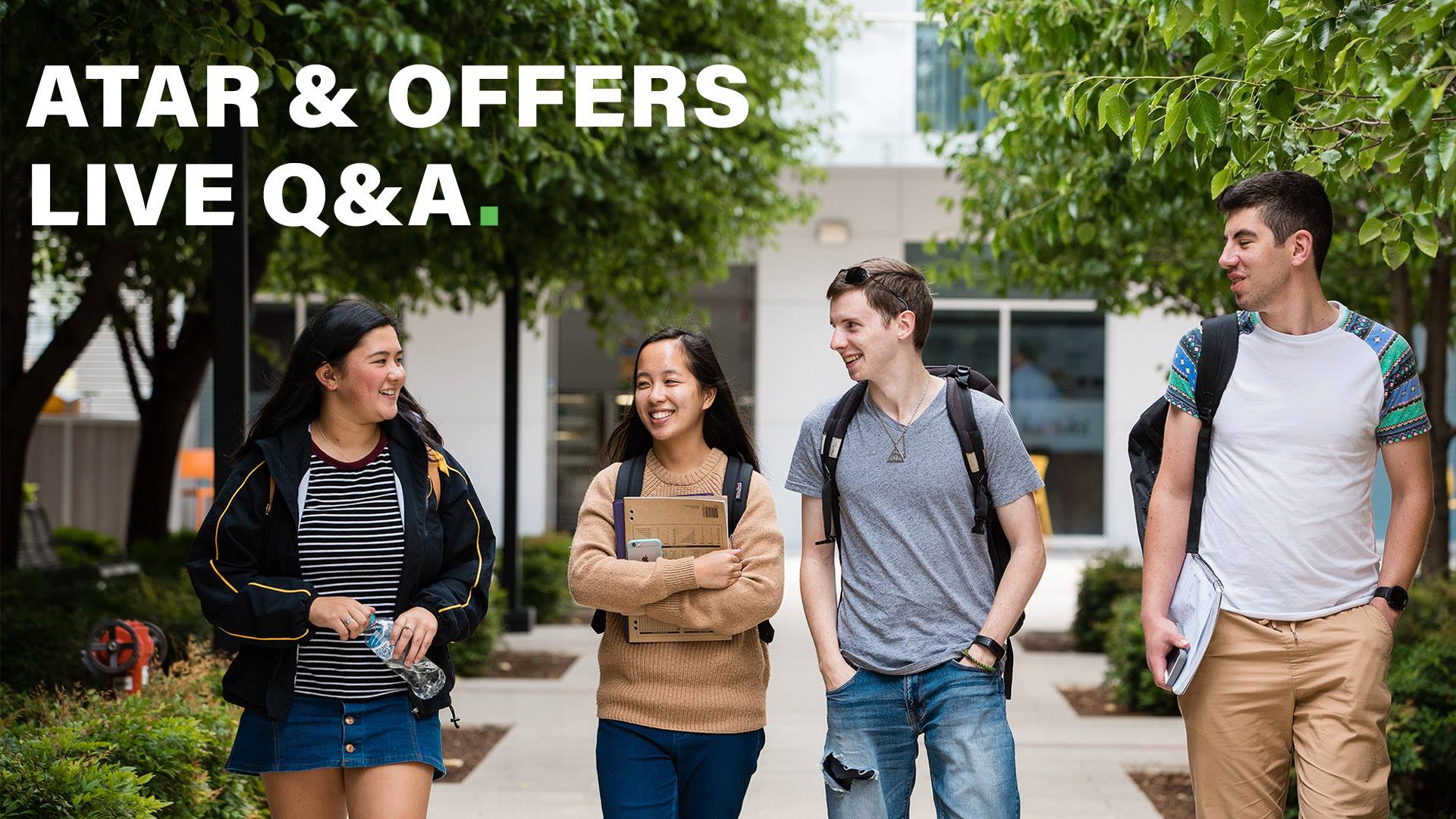 Have specific ATAR and offer questions you'd like to ask?
Join us tomorrow, Friday 7 December from 4–5pm, for a live video chat about the ATAR and offers.
The interactive stream will answer questions about what UAC does, the calculation and delivery of the ATAR, applying, entry pathways, scholarships and schemes, preferences, scaling and a range of other topics.
Visit UAC's Facebook event page to RSVP to receive a reminder before we go live or post your questions and we'll answer them during the live stream.
ATAR enquiry centre
You can ask us specific questions about your ATAR by calling the ATAR Enquiry Centre hotline on 1300 MY ATAR (1300 692 827) (from mobiles on (02) 9119 5012 or from overseas on +61 2 9119 5012), on the following dates:
Fri 14 Dec 8.30am–6.00pm
Mon 17 Dec 8.30am–4.30pm
Tue 18 Dec 8.30am–4.30pm
Wed 19 Dec 8.30am–4.30pm
Changed your mind about what you want to study?
Once you know your ATAR you might want to change your course choices. Simply log in to your application on our website or the My UAC app using your Year 12 student number (or UAC application number) and UAC PIN. Do this before midnight on Sunday 16 December to have your preferences considered in the December Round 2 offers on Thursday 20 December.
Remember to either remove earlier offers from your list of preferences or move them down the list.
If you haven't applied for a course through UAC but you now want to study in semester 1 next year, there's still time to apply for any remaining places. Check the application key dates for details. Don't miss out!
Course Compass
UAC has deployed the latest cutting-edge technology to launch a new course finder platform for Year 12 students – Course Compass. All you need to do is enter your Year 12 courses and estimated ATAR. Course Compass will then display the top fields of study offered to previous UAC applicants with similar academic backgrounds.
Once ATARs are released on Friday 14 December you'll be able to enter your actual HSC course marks and ATAR to find out what paths have been taken by others with similar results. Try Course Compass.
Rural and regional enterprise scholarships program
If you're applying for uni from a regional or remote area of Australia and considering undertaking a STEM (Science, Technology, Engineering and Mathematics), health or agriculture course, you may be eligible to apply for the Rural and Regional Enterprise Scholarships Program. Scholarships valued up to $18,000 are available and applications for the semester 1, 2019 scholarship round close next Friday 14 December 2018.
We're opening early in 2019
Applications for admission to tertiary study in 2020 will open in April 2019 to accommodate university trimesters and early entry schemes. This will also give schools the opportunity to rate their SRS applicants earlier in the cycle.
Just started Year 12 and thinking of studying medicine or a health-related course in 2020?
In 2019, UMAT, the Undergraduate Medicine and Health Sciences Admissions Test, will be replaced by UCAT, The University Clinical Aptitude Test. Certain undergraduate medicine, dentistry and health science degree programs require applicants to sit this test. If you're thinking of studying medicine, dentistry or a health science degree program at undergraduate level in 2020.
Thanks
Thanks for subscribing to Directions this year.
We hope you find this newsletter helpful. But if you decide you don't want to hear from us anymore, unsubscribe at any time.
All the best with your results and see you in 2019!
Connect with us
Want a quick answer to a question? Connect with us on Facebook or Twitter, but remember that we need to protect your privacy so we can't discuss specific details about your application online.