Directions - August 2019
02 Aug 2019
All 2020 courses available now
All 2020 courses from UAC's participating institutions are now available on UAC's website.
If you've already applied, now is a good time to log-in to your application to review and update your preferences.
If you haven't yet applied, now is the perfect time to do so. Apply now and get back to studying for your exams. You can then reconsider your course preferences as many times as you like when you receive your results.
Also be aware that the Early Bird period ends on Monday 30 September, at which time the processing fee increases, so even if you're not sure, apply now to keep your options open
If you're in Year 12, watch the video below for all the information you'll need and see the quick guide Steps to Study through UAC below.
If you're a post-school applicant, this video will show you how to apply.
Why apply through UAC?
Applying through UAC gives you the ability to apply for more than 2,000 courses from 27 institutions. Some of those institutions also offer direct applications. Based on feedback we've received, we know many people are unsure about whether they should apply direct to the institution or through UAC. To increase their chances many are doing both. If you're considering a direct application it's important to remember the following:
not all institutions accept direct applications from Year 12 students
having a UAC application also allows you to apply for EAS, SRS and Equity Scholarships
having a UAC application as well as a direct application will give you more chance of securing an offer, so long as you don't enter the same preferences in both applications.
ATARs released same day as HSC
ATAR's this year will be released at 1pm on Tuesday 17 December – the same day as HSC results.
Year 12 students will have all the information they need on the day to make their future study decisions and have more time to finalise their preferences for December Round 2 offers. This is the first major offer round for Year 12 students.
The deadline for finalising December Round 2 preferences is midnight on Thursday 19 December so be prepared.
Scholarships & access schemes
A reminder that Schools Recommendation Schemes, Educational Access Schemes and Equity Scholarships are all open for applications.
If you've already applied for EAS, don't forget your supporting documentation. Your EAS application won't be considered until UAC has received all of your paperwork. You can check what you need to supply on UAC's website.
It's open day season
Uni open days are a great way for you to get a feel for a campus, explore student facilities and talk to current students and staff. Here's why you should attend an Open Day.
Here's a list of Open Days at all of UAC's participating institutions.
Steps to study through UAC
Here's a quick step-by-step guide to applying for uni through UAC. For detailed information read Applying for uni through UAC.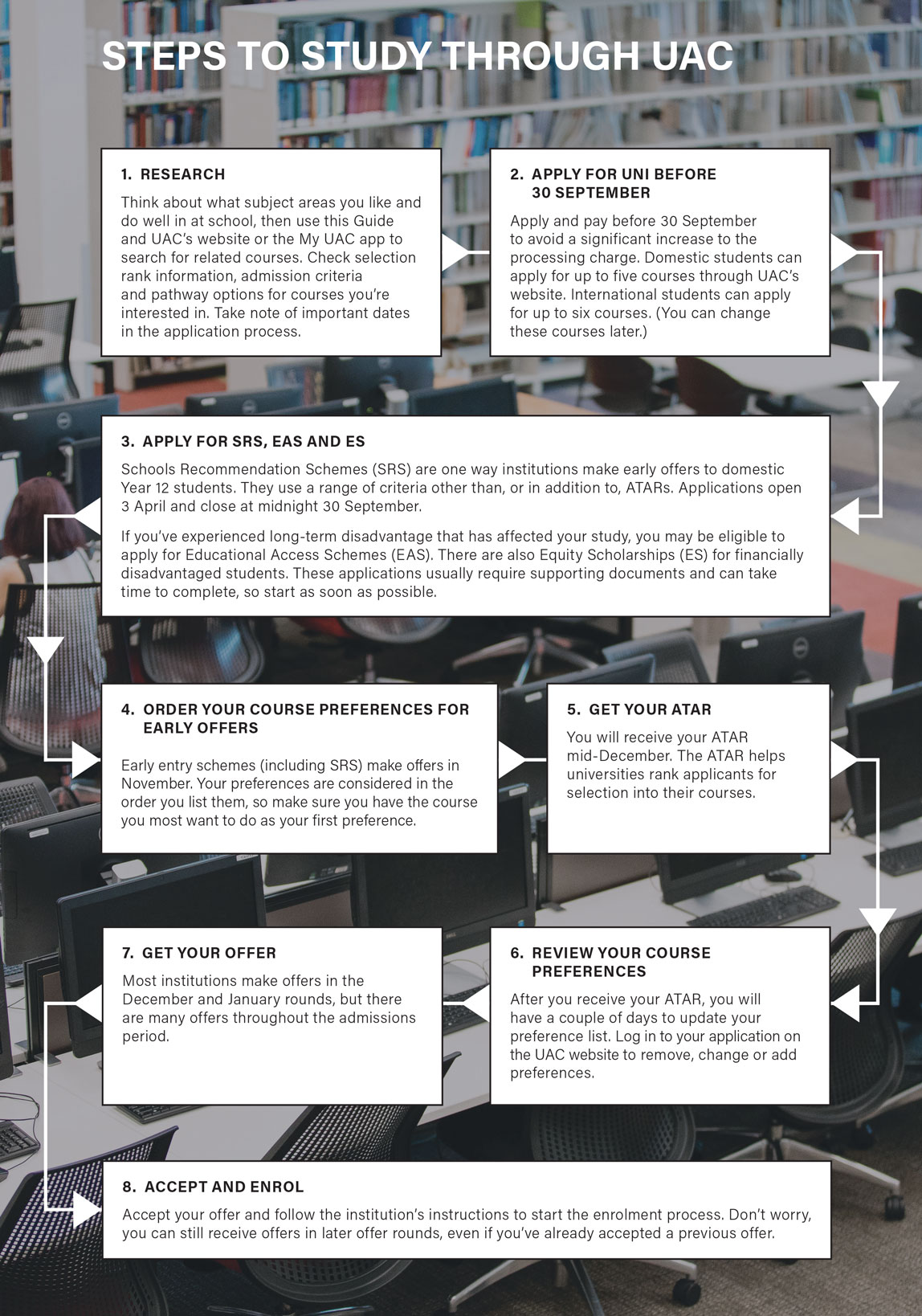 Key dates
For a full list of dates, including offer rounds, for 2020 admissions, visit UAC's website.
Applications
| | |
| --- | --- |
| Mon 30 September | Early bird applications close |
| Fri 7 February 2020 | Applications close for semester 1, 2020 |
Year 12 results and ATARs released
| | |
| --- | --- |
| Tue 17 December | HSC results released by NESA and ATARs released by UAC |
Main offer rounds for Year 12 students
| | | |
| --- | --- | --- |
| Mon 23 December | December Round 2 | |
| Fri 10 January 2020 | January Round 1 | |
Educational Access Schemes
| | |
| --- | --- |
| Fri 29 November | Last date to apply to receive eligibility letter before December Round 2 |
| Thu 19 December | EAS eligibility letters release commences |
Equity Scholarships
| | |
| --- | --- |
| Tue 24 December – Sat 11 January 2020 | Most Year 12 applicants' offers made |
Schools Recommendation Schemes
| | |
| --- | --- |
| Mon 30 September | SRS applications close |
Talk to us
Want a quick answer to a question? Connect with us on Facebook or Twitter, but remember we need to protect your privacy so we can't discuss specific details about your application online.
Have a more detailed query? Contact us by calling 1300 ASK UAC (1300 275 822) or (02) 9752 0200 from mobiles or by sending an email through our enquiry form.