UAC at Western Sydney Careers Expo this week
21 Jun 2023
Expo season is up and running! Our Community Engagement team has been enjoying meeting HSC students across the state and we're looking forward to talking to more of you at the careers expo at Sydney Olympic Park.
A huge range of exhibitors will be ready to share their expert advice. You'll get direct access to information on the HSC, university, TAFE and training courses; career, study and employment advice; help for future apprentices and trainees; and guidance if you're planning an international exchange or gap year.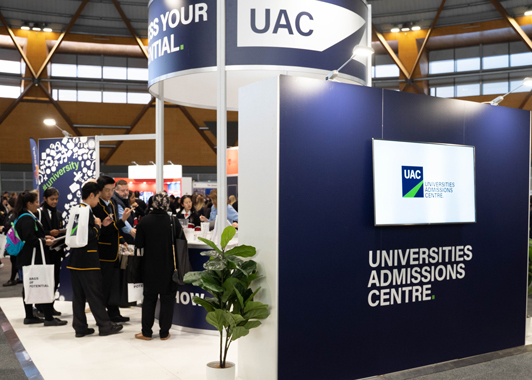 Come and meet the UAC team and don't miss UAC's seminars.
Expo details
Dates: Thursday 22 June to Saturday 24 June 2023
Times: 9am to 3pm each day
Location: The Dome, Sydney Showground, Showground Road, Sydney Olympic Park.
Tickets: Entry to the expo is $12 ($30 for families, children under 14 free): online pre-purchase only.
Western Sydney Careers Expo website: buy tickets, download the full program and see who's exhibiting.
UAC seminars
Thursday 22 June + Friday 23 June
11.30am Seminar Room 1: The ATAR and subject selection: advice for Year 10 students
11.30am Seminar Room 2: The ATAR and applying through UAC: information for students in Years 11 and 12
Saturday 24 June
10.45am Seminar Room 3: So you want to be a doctor? Q&A on medicine entry
11.30am Seminar Room 1: The ATAR and subject selection: advice for Year 10 students
11.30am Seminar Room 2: The ATAR and applying through UAC – information for students in Years 11 and 12