Do you want to study at university in 2022?
16 Mar 2021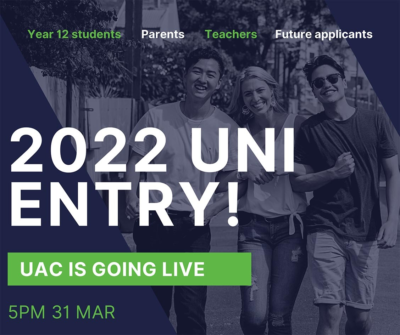 If you're hoping to study at university in 2022 you should join our live stream with UAC's General Manager of Marketing and Engagement, Kim Paino.
Kim will be going live on Facebook and Instagram on Wednesday, 31 March, to give you key dates and insights about applying.
You can also ask her questions about entry schemes, scholarships, and anything else related to university entry.
You don't need to register for the live event. Head to our Facebook or Instagram page at 5:00 pm on Wednesday 31 March, and the live stream will appear on our Facebook profile or Instagram story.
If you'd like to receive a notification when we go live, click attending on the '2022 Uni Entry' event page on Facebook.
To keep receiving updates on our live events, follow our Facebook and Instagram page, and sign up for our Parent Updates.
The 2021 UAC Guide is also available for download on the UAC website from 31 March. We'll send schools hard copies at the start of Term 2.
Upcoming events:
Ask us anything Instagram Q&A – all day Tuesday 6 April.
Career Advice Instagram Q&A with Careers Advisor Charles Impey – 4pm 19 April.